ImpactFluence
Fashion collaboration mobile app
Problem
Both brands and influencers need a platform to collaborate and promote sales. The existing solutions do not provide opportunities for direct contact between brand representatives, stylists and content creators. The brands have to look for creators in social media channels or hire PR agencies to do the job
Task
To design an app that will make collaboration process between brands and creators smooth, transparent and easy
Users & audience
Digital content creators, stylists, brand representatives and brand owners
Team
UX/UI designer, intern UX designer, intern marketing analyst
Roles
My role was a UX/UI Designer leading the project from conception to delivery. I created questions for user interviews, synthesized data from the research, distilled pain points, created user personas, problem statements, user journey maps and user flows, facilitated workshops, created wireframes, mockups, low-and high-fidelity prototypes, and design style guides, conducted usability tests and synthesized data from the tests into actionable and achievable insights, accounted for accessibility and presented design solutions to the key stakeholders.
Intern UX designer and intern marketing analyst recruited participants and conducted user interviews, conducted competitor analysis, and participated in workshops
Project duration
August 1 - November 30, 2022
Methodologies
User interviews, personas, problem statements, and user journey maps, user flows, paper and digital wireframing, low and high-fidelity prototyping, usability tests, affinity diagrams, data synthesizing, accounting for accessibility, iterating on designs
Constraints
The limited budget was the primary constraint for this project
Tools
Figma, Miro, Trello, Maze
Interviews
I conducted a secondary research and used the data from it to develop interview questions, which were then used to conduct user interviews. I prepared interview scripts with open-ended questions for both creators and brand representatives, focusing on our target audience's values, motivations, and daily routines. We interviewed 5 content creators and 3 brand representatives. All of them expressed frustration about the communication process, unclear requirements, absence of any guarantees from the brands, etc. I referenced the user interview findings throughout the entire design process.
Pain points
As interviews revealed among major pain points were:
For creators: poor communication process, lack of transparency, absence of set agreements and mutual guarantees, hard to find shooting locations, hard to find other creators for collaboration
For brands: poor communication process, inconsistency in content, violations of deadlines by creators
Personas & problem statements
To form a deeper understanding of our users' goals, needs, experiences, and behaviors I created 3 personas for each of our user segments. We used these personas whenever we wanted to step out of ourselves and reconsider our initial ideas.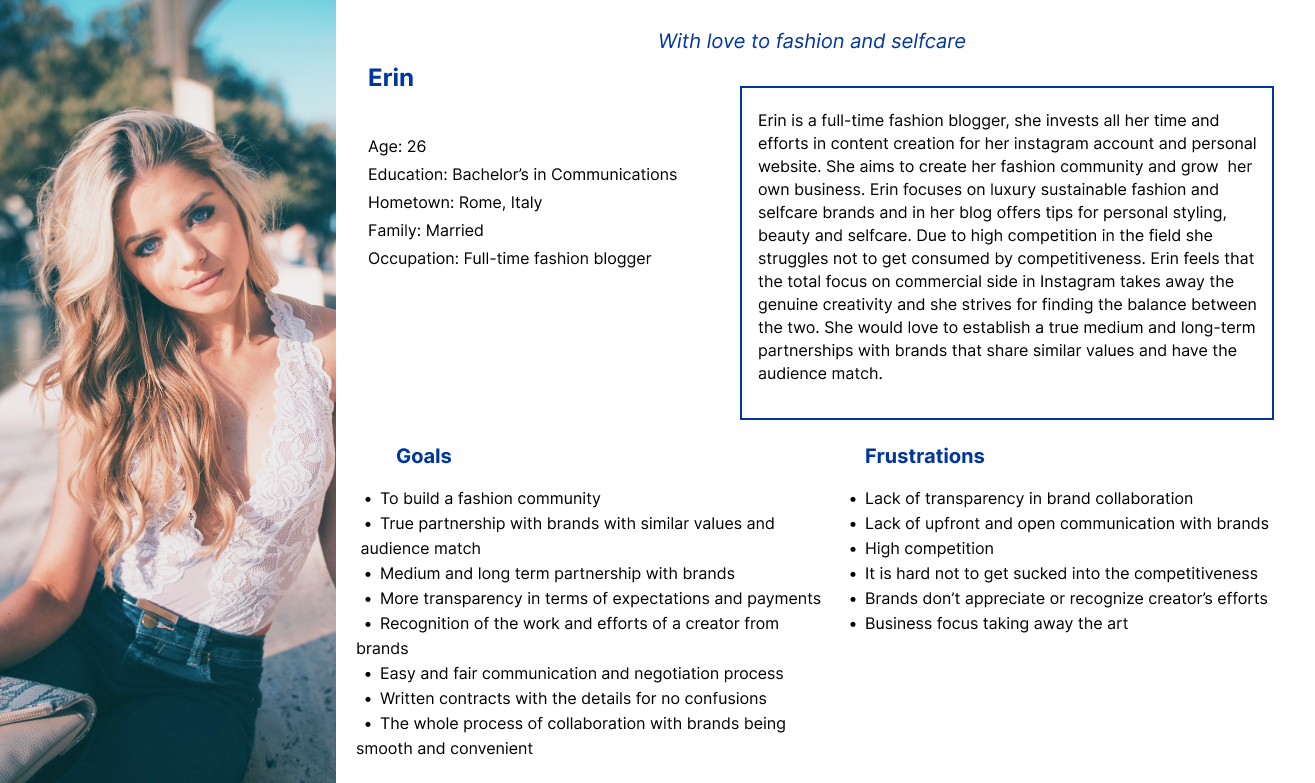 Problem statement
Erin is a full-time fashion blogger, who needs a transparent and convenient collaboration process with brands,because she wants to create her community and grow her own business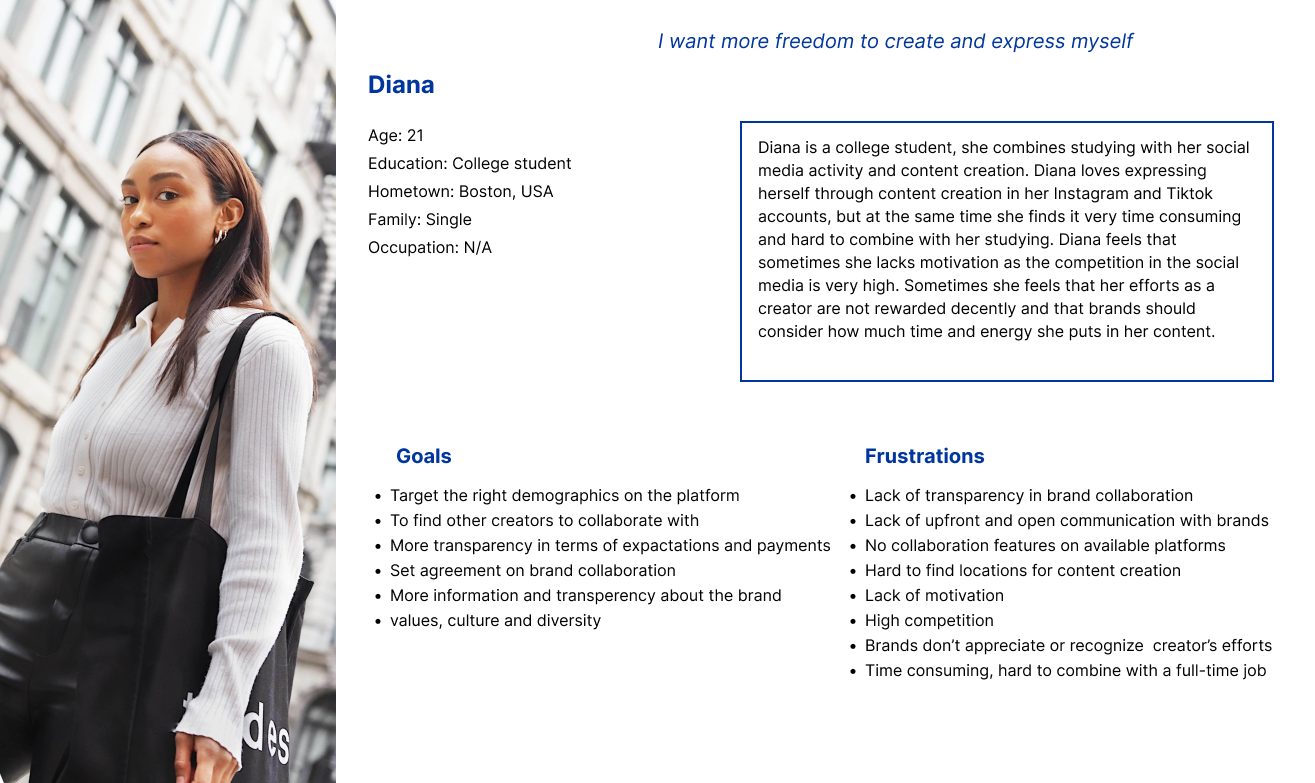 Problem statement
Diana is an influencer, who needs a transparent and fair collaboration with brands and opportunity to collaborate with other creators, because she feels that her efforts are not rewarded decently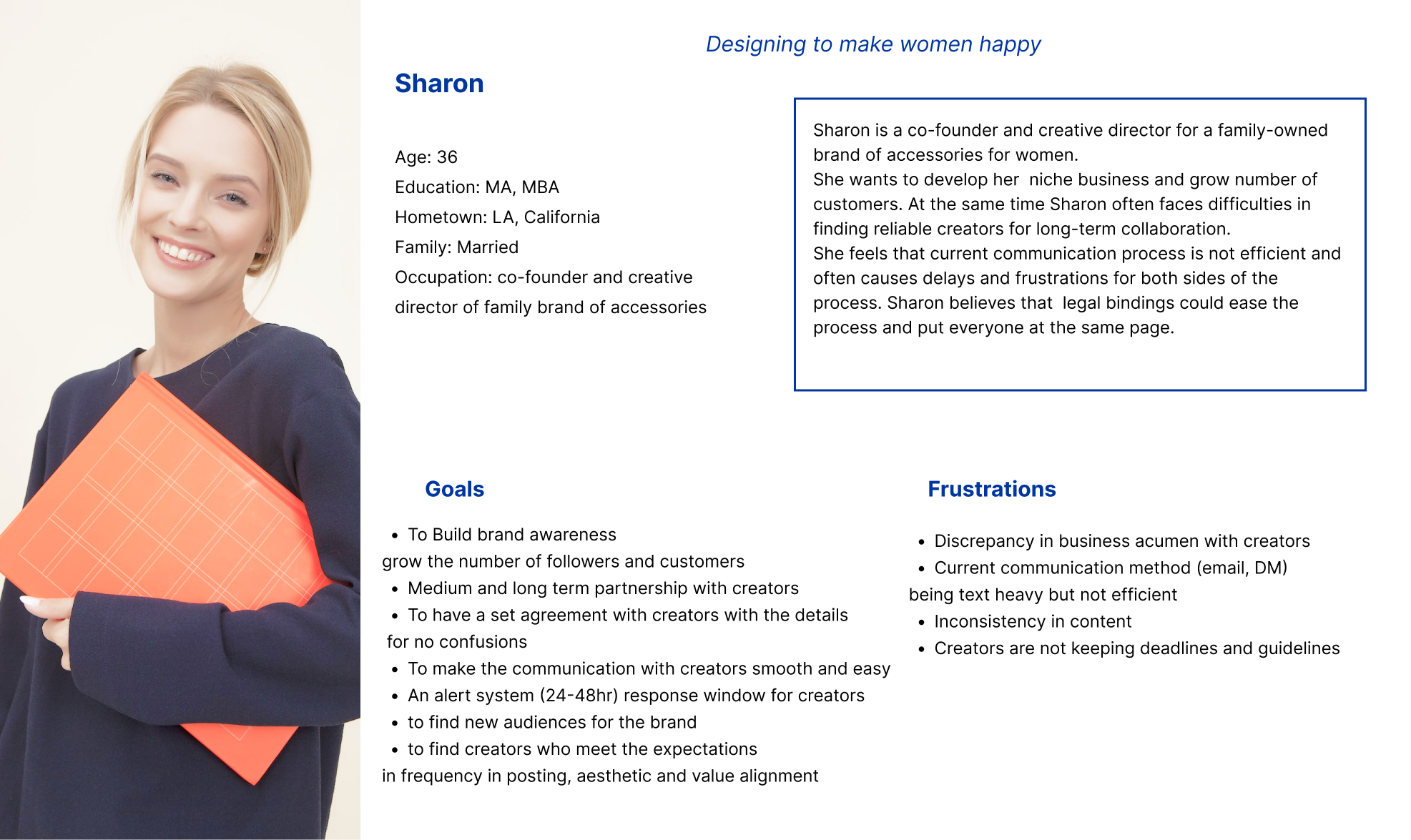 Problem statement
Sharon is a brand owner who needs a clear and smooth communication process with creators because she wants to increase brand awareness and the company's revenues.
User journey maps
I created user journey maps for each Persona that helped us to come up with ideas for designs that truly support the users' needs and solve their problems.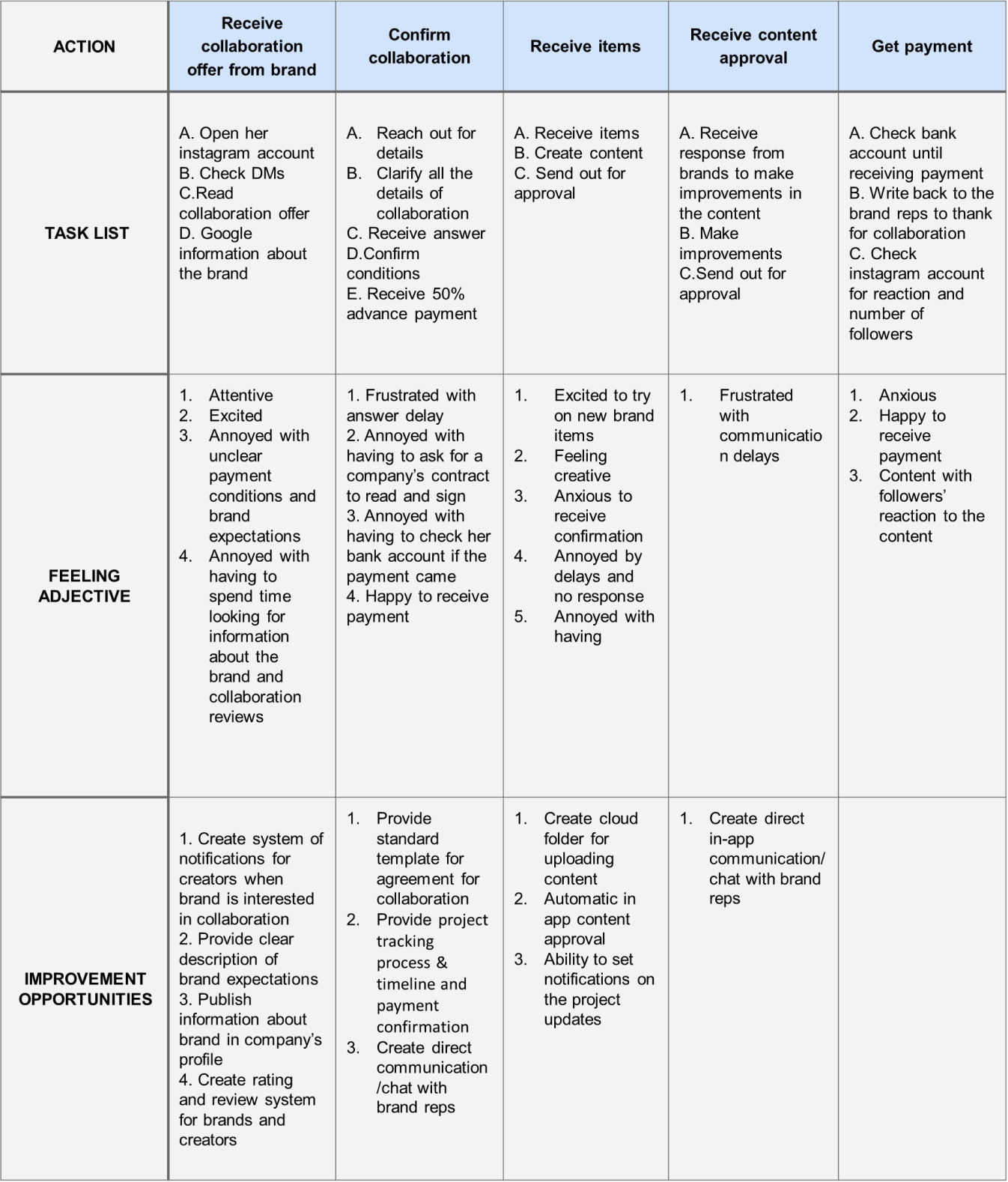 Goal:
To create a community and build her own business by growing the number of followers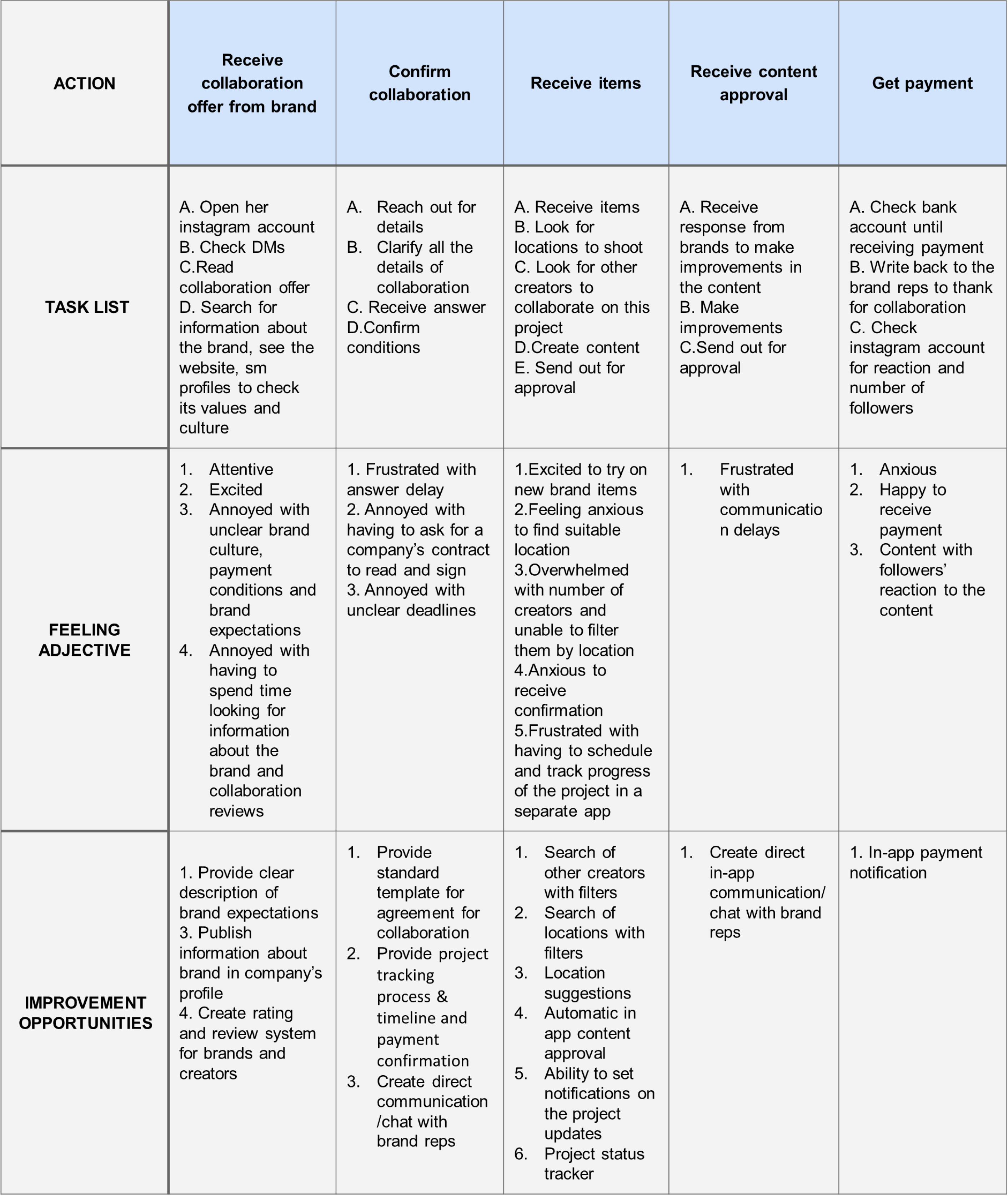 Goal:
To get decent rewards for her content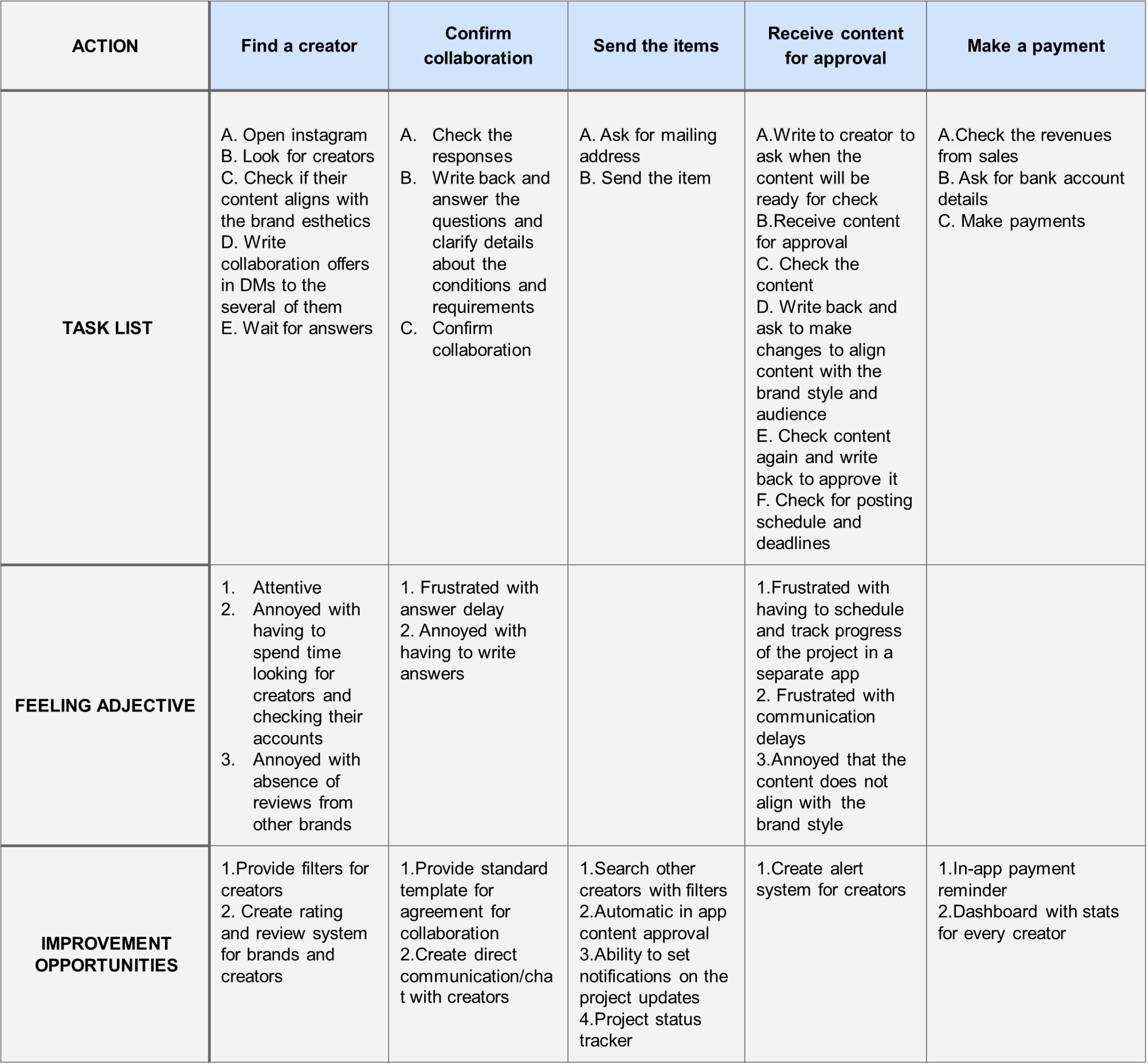 Goal:
An easy and smooth communication process with creators
Competitors' analysis
In order to evaluate competitors and discover new opportunities in the market, our team conducted a competitive analysis. Its goal was to compare each competitor's mobile app user experience. Conducting a competitive analysis helped us better understand users and their needs and informed the ideation process on how to stand out from competitors in the market.
Defining Unique Value Proposition
I facilitated a couple of workshops in Miro with my team to come up with ideas on how to use opportunities identified in the competitor analysis.

We sorted our ideas for product features into categories. There were six categories of product values that were identified during user interviews: communication, transparency, community, compatibility, smooth process, and project management. We removed those that didn't fit into those six value categories and didn't add real "value" for the users.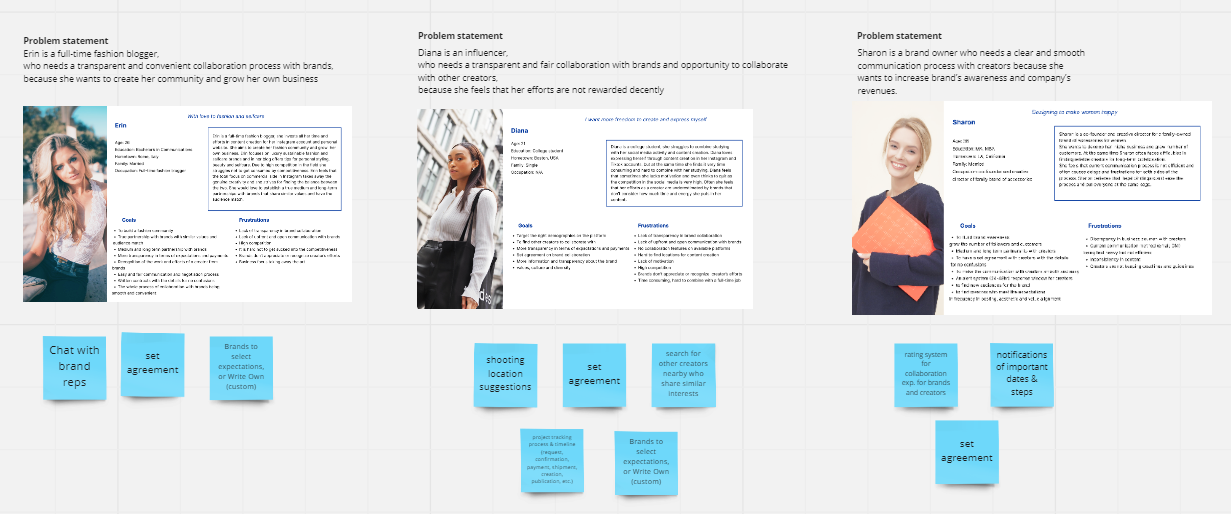 We connected these features and benefits with the needs of our users and removed those that didn't fit. The goal was to identify what's truly valuable to the user and not just a cool feature that users didn't ask for. We paired each persona with value propositions that meet their biggest pain points.

We got the list of the value propositions of our app. Then we removed the features that our competitors already offer and got the unique value propositions list that finally helped us understand how our product will stand out.
Wireframes
I translated my design ideas into wireframes, keeping in mind the research findings and major pain points of users.
Low-fidelity prototype
To test my early concepts I created a low-fidelity prototype for creators user flow.
Testing low-fidelity prototype
We recruited 24 participants, all aged from 19 to 35 years old, and conducted a remote unmoderated usability study. Each session will last 5-10 minutes, based on a list of prompts.
The usability study allowed me to gain a deeper understanding of how users felt about my app. I came out of it with several valuable insights, which I translated into actionable and achievable recommendations:
•Make the new message indicator more visible
•Make attachments visible instead of hiding them under the drop-down arrow
•Provide a button to cloud folders instead of a link
•Rename cloud folders to make it clear for users
•Add the screens for the loan request to the flow
Mockups
Based on the insights of the usability studies I applied design changes to the high-.
Notification
Based on the insights of the usability studies I applied design changes like notifications popup message
Attachments
Additional design changes included making attachments visible without drop-down arrow
Labeling and button
Based on the research findings I replaced a link with an outlined button and changed the label to View my content
UI Kit
To keep consistency throughout all the designs and prepare for handoff to development I created a UI kit identifying different types of UI elements, reusable components, and styles used in the mockups. I organized the UI kit according to the Atomic Design principles, grouping all the components into 5 categories: atoms, molecules, organisms, templates, and pages.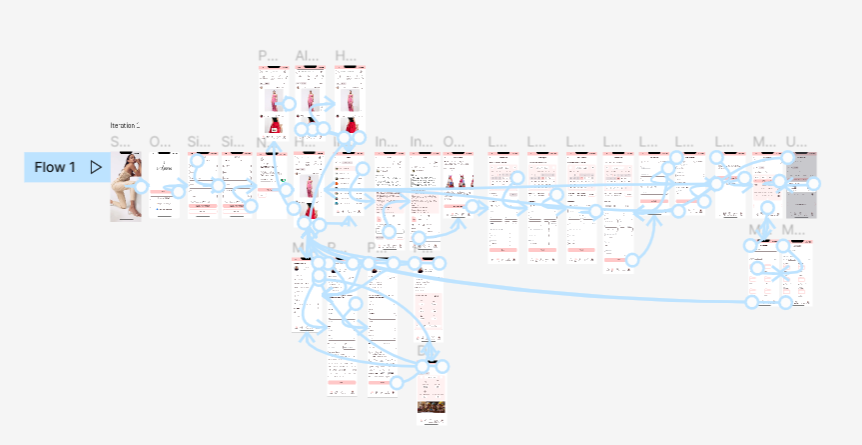 Accessibility considerations
01
Clear labels for all interactive elements and icons that can be read by screen readers
02
I used accessible typefaces and fonts throughout the designs
03
All colors have contrast ratio AA or AAA and correspond to WCAG standards
Outcomes, lessons & next steps
Impact
The users shared that the design was intuitive to navigate through, engaging and easy to use and demonstrated a clear visual hierarchy.
"Very easy to use"
"Looks awesome!"
"Easy and straightforward!"
"I'm looking forward to seeing this app released!"
Lessons
I learned that even a small design change can have a huge impact on the user experience.
Sometimes the process meets the obstacles and goes not the way it was expected, and you have to adapt to the changes quickly.
Teamwork helps the creative process
The most important takeaway for me is to always focus on the real needs of the user when coming up with design ideas and solutions.
Next steps
Conduct research on how successful Impacfluence is in reaching the goal to make collaboration between brands and creators transparent and easy

Conduct follow-up usability testing on the app

Iterate on accessibility
Let's connect!
Do you need a designer or have a product idea?